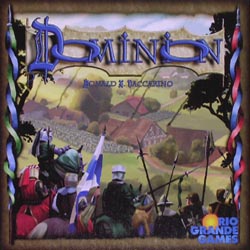 This year's game of the year in Germany has been announced today. In a bit of a surprise (to me, at least), the jury decided to give the award to Dominion, designed by Donald X Vaccarino and published by Hans-im-Gluck in Germany and Rio Grande in the UK.
Surprised, but pleasantly so, as I expected it to go to Fits – a much more family friendly game with a theme (Tetris) that is pretty well known. However, they picked a bit more of a gamers' game (even though it is still very accessible) and my favourite of the nominated games.
Many congratulations to Donald, Jay Tummelson of Rio Grande Games, and the developers Dale Yu and Valerie Putman.