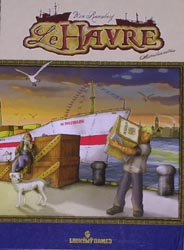 The winners of the International Gamers Award have just been announced on the IGA website.
In the multi-player category, the winner was Le Havre, designed by Uwe Rosenberg and published by Lookout Games. So, Dominion didn't win (it came second) for a change but, as this award tends to be the one that typically goes to the gamers' game, Le Havre isn't really a big surprise.
In the two-player category, the winner was Day & Night, designed by Valentijn Eekels and published by Mystics.dl. I know nothing about this one although I think it has only just been released in the UK.
Full details about the voting can be found here.