Just back from a week in Lanzarote. Although much warmer than the UK and only a couple of brief showers during the week, it was very windy which made it a bit chillier than normal. As usual, I'd packed one or two games and we (Jan, Cat and myself) managed to play something every day except one (when Cat and I watched The Hunger Games instead). Here's a quick rundown of what we played:
Sunday 19th: Although we didn't arrive until about 7.30pm, we still managed a quick game of Clubs. Although a very simple climbing cardgame, I really like it and it is very easy to explain to people. We played to 40 rather than 50 points and Cat won 48-44-32.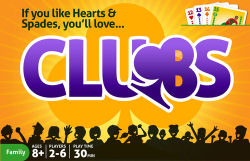 Monday 20th: Managed a solo game of Friday in the afternoon. Can't believe it's so long since I last played this. However, it came back to me fairly easily and I managed a win. My score ended up as Fighting 34 Pirates 30 Life 45 Aging -5 Hazards -27 = 77. We also managed to play Air King which has been on my unplayed list since I acquired it at Essen. It's a hidden goal game where you are trying to manoeuvre planes to their destination so that your planes arrive before anyone else's. It wasn't a bad game but it's not one that's going to be jumping out at me to try again. Jan won.
Tuesday 21st: Another one of my unplayed games today: The Hobbit: An Unexpected Journey – Das Kartenspiel. This is a simplified version of Reiner Knizia's King's Gate where you place tiles in your colour around a location and once all the spots are covered, you score and move onto the next location. Again, easy to play although Jan got stuffed a couple of times so wasn't as thrilled at the game as might have been the case. Cat won this one 12-10-9.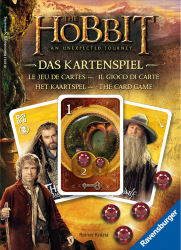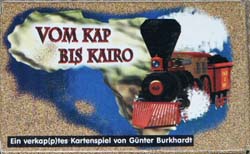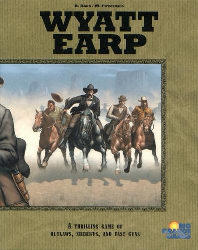 Wednesday 22nd: We played Vom Kap bis Kairo, a game I've been meaning to dig out and try again for ages. We were all impressed with this neat racing card game, building our railways across Africa. Has some nice bidding choices to make in determining the type of landscape you need to traverse each round but seems nicely balanced so a runaway leader shouldn't be a problem. This went right down to the wire with all of us just one step from winning but Cat had enough cash left to buy the extra rails she needed to reach Kairo first.
Thursday 23rd: I'm a big Mystery Rummy fan and Wyatt Earp may be my favourite. Last time I played this was three years ago, again while in Lanzarote. Another close finish but I managed to take $11k in the third round to overtake Cat for the win. $26k-$24k-$22k.
Friday 24th: This was movie night but I did still manage to play a solo game of SOS: Titanic. I got a very fortunate start but my luck didn't hold out too long. As it was, Fredrick Fleet managed to rescue 29 passengers before the ship sank.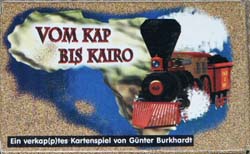 Saturday 25th: Our final night saw us fit in two games. We started with No Thanks, a great little game. I banked on getting a long run of high cards but had two gaps killing my chances. Jan won 7-26-77 (don't look at that last score!) We then decided to play Vom Kap bis Kairo again and it was just as close a result as the previous time with Cat this time gambling by using the last of her money to cross her seventh terrain. However, it paid off as we were unable to stop her getting to Kairo first again.
All in all, a great week's holiday, despite the breeze, and some good gaming as well. And I only won once all week.