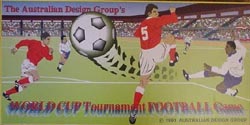 As the World Cup starts next week, I decided to dig out WCTF to try and predict the winners from this year's tournament. Unfortunately, the published game dates back to a time when there were only 24 teams involved but, thanks to the efforts of a keen BGG'er (hats off to John Bennett – Johnnyboyb), a supplement has been produced to modify it to a 32 team / 8 group format and modified team tokens for all the 2006 teams are available.  
Six of us took part each controlling four teams, leaving 8 neutrals. Well, the group stages proved to be a nightmare for the favourites: Germany (Mark K), England (Mark G), Brazil (Nige) and France (Phil) all failed to qualify. In fact, it proved to be bad news for Nige and Phil who both only managed to progress 1 team to the knockout stages.
The second round didn't turn out to be any better for Nige as Trinidad and Tobago lost out to surprise team of the tournament Costa Rica. Mark K lost his 3 remaining teams at this stage (Croatia, Poland and unfancied Angola), while Steve had the luxury of having two of his teams face one another (USA progressing to the quarter finals at the expense of Australia).
Here, the USA faced the mighty Togo (the last of the neutral teams) and cruised through 4-1. My two remaining teams (Italy and Spain) faced each other with the tie going to penalties and Spain running out eventual winners. Mark G likewise had two of his teams drawn together and Costa Rica dumped out Holland 6-3. The final tie saw Steve's Argentina face Phil's Paraguay in the tightest game. It finished 4-4 with Argentina taking the penalty shoot-out by the slimmest of margins 3-3 but better ranking pushed them through (effectively 4-3).
In the semi's Steve had Argentina and USA face each other with Argentina victorious in a 5-4 scoreline. The other tie went to Mark G's Costa Rica, who beat my Spain by a comfortable 6-3 margin. The third place playoff was a low scoring game with Spain beating the USA 2-1, which left Steve's Argentina up against Mark G's Costa Rica in the final.
And what a final it was with 14 goals to delight the crowds. Nige and Mark K had both mapped out their routes to the last game in intricate detail and had seeded both sides of the tie with lots of goals. Unfortunately the one flaw in their plans was that they had forgotten to get their teams through the early rounds. Consequently, Argentina lifted the trophy with a 9-5 victory, which also gave Steve the win in our game. Good fun as usual but I'm not sure I'll be putting money on Costa Rica to get that far in the real thing. Argentina could be in with a shout though. And England can think themselves lucky that Mark G is not in charge of their fortunes in Germany. Let's hope they do well.
Nottingham is a new set-collecting game by Uwe Rosenburg and is a nice addition to his collection.  
Everyone acts as a deputy to the Sheriff of Nottingham and is seeking to collect cards to trade in for victory points. A set of three or more cards will yield between 7 and 13 VPs or a larger combination can be used to satisfy one of four different assignments (such as 5 items of a kind or 4 different pairs). On his turn, the player will reveal a new card which he can either take into his hand or utilise its special action. This second option basically allows the player to steal or swap a card or cards with another player in exchange for the revealed card. I quite liked this aspect as even when you might deprive an opponent of a card you would like, he gets a card in compensation and all cards are useful for something.
The other interesting aspect is that every time someone scores VPs, every player with fewer than a set number of cards (which varies as the game progresses) gets a free card. the game ends once an eighth assignment is completed or 23 scorings have taken place. The player with the highest score wins.
We all enjoyed this one and there is a tension in trying to keep up with the leader while trying to secure a good scoring assignment. Mark G managed to grab a couple of these and took the win, while I was regretting not trading in a set on what proved to be my last turn in the hope of achieving a remaining assignment. Sod's law meant that Mark K ended the game immediately before my next turn, meaning I ended up a poor third. Good fun though.