Having successfully sold 45 games in my latest Ebay auction, I have spent a small part of the proceeds. A browse of Ebay while waiting for the bids to come in revealed a copy of Martin Wallace's Age of Industry up for sale at £10. I got it for £12.50 plus £4.00 postage which I was quite pleased about. It turned up today and most of the pieces are still unpunched. Looks like the previous owner just tried a single two-player game and decided it wasn't for them.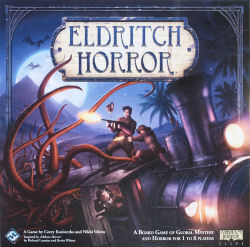 Possibly against my better judgement but deciding to take advantage of a Bookdepository deal, I also grabbed a copy of Eldritch Horror for £32 with free postage. A shorter Arkham Horror with a worldwide landscape sounded intriguing and it's been getting some very favourable reports so I'm keen to give it a go. Hopefully, we might finish it – something we didn't achieve with AH. Should be with me around the weekend.
Finally, I decided against getting a Japanese version of Machi Koro as part of the service that Mandy Tong is providing to the favoured few (as I didn't want to go too mad with my Japanese adventure) but having raised some cash on Ebay, I actually ordered a lovely homemade version designed by Matthew Marquand to try it out. If it's as good as people suggest it is, I'll definitely get an official version once a new English edition appears, but this gives me a chance to try it out. Hopefully that should appear in the next week.