Having suggested this evening to 

 meepleonboard (@nickster1970 at BGG) that a couple of plays of The Bogey would help him raise his H-Index, I decided that I would lead by example and play this excellent solo game that utilises just an ordinary deck of cards.
The aim is to play all cards in the deck to as few columns as possible with each column only containing cards of one suit in descending order (skips allowed) but, after each turn, The Bogey automatically plays the next card in the deck to potentially muck up your plans and, if you ever start a twelfth column, you lose.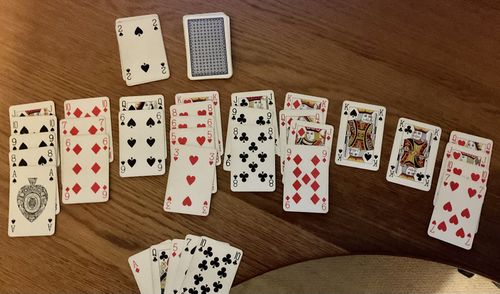 Part way through the game, I'm already up to nine columns but my hand has four cards (everything but the Ace) that can be played safely. Thankfully, the remaining twenty cards were all able to be played with me just having to open one more (tenth) column so that counts as an advanced win. Good fun.