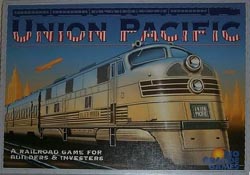 Union Pacific
Although I've played Airlines many times, I've never got around to trying Union Pacific so I set out to remedy that this week. Six of us set out to make our fortunes buying up railway stock.
In UP, players are building train routes across the USA for 10 train companies and buying up shares in those companies. There is also an 11th company, the Union Pacific, in which you can buy shares but no routes are built. You are basically trying to gain stock majorities in those companies in order to gain dividends that are awarded four times in the game to the highest and second highest shareholders in those companies. Whoever accumulates the most in dividends by the end of the game is the winner.
The UP stock gets very valuable in the middle- to end-game and, after a slow start when no-one bought UP shares, once they started to be snapped up there was a deluge. The first dividend saw John take a slight lead by being able to gain first and second majority in one of the biggest companies. Timing is everything in this game. Predicting when the next dividend is going to be called and slapping down stock just in time will often see you do well. Mark K kept missing out, while I scored well especially in the third dividend. However, by that time, I knew Nige had the UP majority sewn up and he took no chances by declaring his remaining interests immediately after the third dividend. John did likewise, moving him into second place in the UP, and then proceeded to draw the final dividend card. When the tallies were made, John and Nige were tied but I had just held on thanks to my good third round scoring.
Union Pacific is a good game and is very similar to Airlines. Those of us that had played both had a slight preference for the earlier game (Airlines) as I think it is slightly more streamlined. However, UP does add an interesting extra element and is very nicely produced. Definitely one to play again.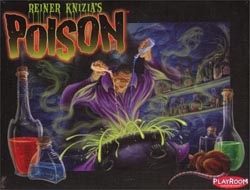 Poison
We finished off with this recent Reiner Knizia card game. The players are witches adding potions to three cauldrons to make an evil brew. However, if the pot overflows, the player causing this to happen takes penalty points and the pot has to to be started again.
Each cauldron will only take cards of one colour (or a neutral "poison" card). The cards are numbered between 1 and 7 and once the total in a cauldron exceeds 13, the player adding a card takes all the cards already in that cauldron as penalties and restarts the pot with his card played. Once all the cards have been played, the round ends and whoever has the most cards in each colour is allowed to discard all the cards he has in that colour. Then the remaining cards in hand each count 1 penalty point, except poison cards which each count 2 points. After a set number of rounds, whoever has the fewest penalty points wins.
This is a great light game, which plays fast and has a bit to think about but in a fairly relaxed way. Do you try to avoid taking any cards at all (pretty difficult) or concentrate on a single colour, hoping to discard them at the end (easier but painful if you get it wrong). Also people have a nasty tendency of putting poison in the pots and these can't be discarded. In our game, I got completely stuffed in the first round, taking a massive 14 points. Ouch! Mark G didn't fare much better gaining just one point fewer. It soon became obvious that this was turning into a three horse race between Mark K, Nige and Phil. Although Mark K took a 6 point cushion into the final round, the others managed to leave him with 8 penalties in that round while they took none. This allowed Phil to squeeze through for the tightest of victories.
We all enjoyed Poison as a nice end-of-evening game, especially Phil and myself. Nige rated it a bit lower than the rest of us because it was just a bit too much fun. An excellent game to play with the family.