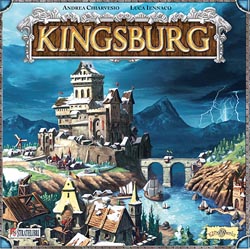 This week, we had another go at Kingsburg – our January game of the month. Guy had not played before but, as it is a dice game, we explained that Mark G was hot favourite.
Well, the first turn sort of went to form as Mark G rolled an 18!!! However, Guy and I covered both the 6 and 12 and Mark K, who had himself rolled a 16, used one of his +2 tokens to cover the 18, meaning Mark G had no space on which to place. We all said that this was a very harsh course of action for Kennett to take – very funny but harsh.
After the experience of our first game, most of us concentrated on the Inn/Market/Farms building row to gain the extra white die. Mark K achieved that first but I managed it a season later, from which point on, I suffered several turns of rolling less than 10 on four dice.
Unlike the last game, we did encounter some of the nastier monsters but Mark G was always a match for them having built up his protective buildings. Nige seemed to keep lacking the resources he really wanted to build with and this hampered his progress a bit, while Guy seemed to be happy experimenting with the less popular building rows. The last winter was pretty devastating with everyone other than Mark G losing a building and a couple of VPs but he wasn't quite able to peg back Mark K who always seemed to be comfortably a step or two ahead of the rest of us.
Again an extremely fun game, with Guy also rating it highly even though he ended up quite a way behind the rest of us points-wise.