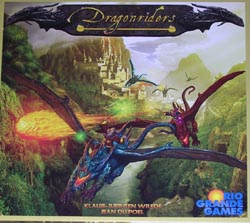 Dragonriders
This week, six of us met at John's house. One of last year's Essen releases that I have not yet played is Dragonriders by Klaus-Jurgen Wrede and Jean du Poel and published by Rio Grande. The game is a dragon race around a twisting circuit, with riders casting spells to try and get themselves to the front and win the one-lap race.
Each player simultaneously sets their speed dial (accelerating or decelerating by up to 300mph) and decides whether to play a magic card. Then in race order, players move and cast their spells. Movement is carried out using a measuring stick matching your chosen speed, which both sets how far you travel and the degree to which you can alter direction. The measuring sticks have notches cut into them to restrict manoeuvrability, the restriction growing as your speed increases. This is a very clever device and also helps to show whether you flight path safely avoidst the walls of the course or not. The spell cards allow you to do things like hitch a ride from a dragon in front of you using a lasso or through fireballs at a leader to run him out of energy etc. The twists and turns mean that often your dragon takes damage and loses energy. If it loses too much, it becomes exhausted, restricting its speed until it regains some energy or drops out of the race entirely by losing more energy. Scope for being very nasty to an opponent here. The race continues until first across the finish line wins.
We made our course up with some nasty bends at the beginning and this meant things were very tight with people jostling for position. Very tight is a problem in this game as the dragon figures are so light and impractically shaped that it was virtually impossible to move a dragon without another being moved accidentally. You have to take this as a bit of fun as everyone will mess up – guaranteed. Exact precision is a no-no for this game. Taken in the right spirit, it's fun watching "all thumbs" Nige trying to move without at least half the field being bashed out of position. The other thing we thought could be improved is the penalty for crashing, which seemed too light. Cutting speed to 100mph but then allowing the player to immediately accelerate to 400mph is too forgiving; we thought the next turn ought to remain at 100mph. As it was, leader Phil was able to plough into a wall on the final corner at full speed and then next turn move far enough to cross the line easily ahead of the rest of us.
Dragonriders was a game we had mixed feelings about. The game was good in concept and we were really impressed with the movement device. However, it was much too fiddly and the dragon figures were just so impractical for the way the game was meant to be played; some nice plain wooden hex pieces would have been much better. If we could fix that and tweak one or two of the penalties, it might be worth playing again (probably with a more forgiving start to the course as well).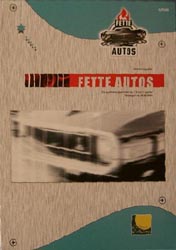 Fette Autos
From one race game to another. Fette Autos has been out a few years now. Designed by Heinrich Glumpler and published by Edition Erlkonig, the game uses cards to simulate the acceleration, braking and overtaking in a car race, using relative positions (similar to Knizia's Formula Motor Racing) rather than movement around a track.
The game is played over 8 rounds, each round representing either a straight or curved section of the track. A player's speed is shown by three cards laid in front of him. In each round, players firstly have to change one of these three cards as dictated by the track section they are negotiating. They also receive movement chips if the symbol on their cards then matches that on the track section. These chips are used later to assist braking or overtaking. Players then get the chance to change one of their cards for a better one from their hand to speed them up or slow them down depending on the speed limit for the track section. If their cards exceed the speed limit, they either have to pay chips to reduce their speed temporarily or execute emergency braking (they permanently lose a card from their hand and replace their highest speed cards with ones drawn from the deck until they fall within the speed limit). Finally, each player has the chance to overtake cars in front of them by adding chips to their current speed and comparing it with the speed and chips of the car in front. After 8 rounds, whoever is at the front is the winner.
In our game, we started off feeling our way. This wasn't helped by the fact that I had got a rule wrong but it didn't affect things too much. On the third round, the first straight appeared and I made a big move, coming up from fourth place to take the lead. However, I lost out in the next curve by not being able to brake sufficiently and had to execute emergency braking. John had to do likewise. Nige at this stage was pretty close to the back but was doing well at matching track section symbols and gaining lots of chips to help his overtaking manoeuvres. Things worked out really well for him and he was able to gradually move through the field and take to the front going into the final turn. Fortunately for him, he still had enough speed left to see off the challenge of Mark K and take the win. Well played. My car was obviously suffering mechanical problems at the end as I dropped back to fifth position even behind the neutral 'Old Pro' car.
I quite liked Fette Autos. Manipulating your hand to be able to get the right cards down to take chips seemed to be the key and Nige did this better than the rest of us. It was quite a nice different take on car racing and it would be interesting to see how it played with fewer players. Interestingly, you can even play it solo with 6 neutral cars.