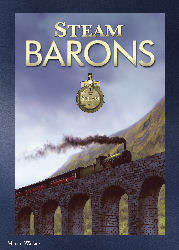 The third game being released by Martin Wallace, this time through Warfrog rather than Treefrog, is Steam Barons which is the first expansion for Mayfair's Steam.
Two maps are included in the game, one covering eastern USA, along with parts of Canada, and the other covering northern England. The maps are suitable for five and six players if you use the base or standard rules from Steam. The Steam Barons rules also introduce a stock-market system to the game. Now you can buy and sell shares in the railway companies. However, the biggest advantage of these rules is that the maps become playable by between two and six players.
More information, including a link to the rules and pictures of the new maps, can be found on the Steam Barons page of the Warfrog website.