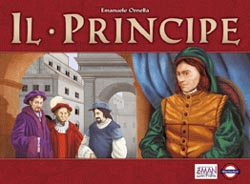 Il Principe
I had been expecting there to be six of us this week so had lined up to play Power Grid, but John rang at the last minute to say he was unable to make it, so I quickly changed things to try and get another two games off my unplayed list. The first was Il Principe, designed by Emanuele Ornella and published by Z-Man Games.
Il Principe is about competing princes in Renaissance Italy. The aim is to gain Victory Points by building cities, influencing regions and possessing certain building roles to help the city builders. Players get an income of 5 coins at the start of each turn, together with 4 building cards in a variety of 5 colours. Two of these are kept in hand and 2 are made available for auction. All the cards made available are sorted by colour and all the cards in each colour are auctioned off as a lot. The auction winner takes the cards into his hand and can immediately choose to exchange building cards and pay a building cost to found a city (with each of the 15 cities requiring a different combination of cards). Building the city rewards the founder with a number of VPs and the ability to place a number of influence shields in regions neighbouring the city. Once all the cards have been auctioned, each player in turn has the option of building a city or laying cards of one colour face up in front of him. These join any cards played in previous rounds or used in building cities. Whoever displays the most and second-most cards in each colour controls that colour's major and minor building roles for the following turn and will receive VPs for any city built during that turn using building cards of the matching colour. The game ends either when all the cities have been built or when the building card deck is exhausted, at which stage final VPs are awarded for control of the regions, most coins, most building cards left in hand and each role card controlled. Most VPs wins.
Money seemed very tight in the game and the result ended up being very close. The game also seemed to go very quickly, which is a good sign. I'm not sure any of us really worked out what the best strategy was and the close finish suggests that the game is fairly well balanced. The final bonuses proved critical with Mark K taking the victory by a single point. We all really enjoyed Il Principe and the quick playing time should mean it sees a fair bit of play. Nige immediately asked Mark to order him a copy so it must have been good.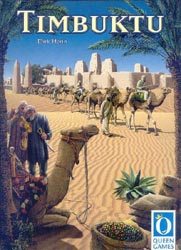 Timbuktu
Our second game of the evening was the recently re-released Timbuktu by Dirk Henn and produced by Queen Games. I'm not sure if I played the original Db-Spiele incarnation but, if I did, it must have been soon after it was released and my memory of it has just about gone.
Timbuktu is a game of transporting goods across the desert to Timbuktu by camel train. Each camel starts with an assortment of five different goods and each player controls 5 camels. The game is played over a number of rounds, with each round involving all the camels being moved during the day and then thieves stealing certain goods during the night. During movement, everyone simultaneously chooses which of their camels they wish to move and then players in turn move that camel into the front-most available pitch in one of the five pens. Once all the camels have been moved and safely tied up for the night, the thieves come visiting. Each thief steals two types of goods from two particular pitches in one particular pen. Each player starts the round with the vital information about one of the thieves and as the round progresses can get information about two more thieves. So as the round progresses, players get more information about which pitches are dangerous and which are safe. The camels in the wrong pitches lose the relevant goods and play progresses to the next round. After the final round, each delivered good is worth points equal to the total number of goods in that colour stolen by the thieves and whoever has the most points wins.
We decided part way through not to play all the rounds due to lack of time remaining but it became apparent that it was a two-horse (camel?) race between Phil and me. Gold ended up being the crucial factor and my camels won by a short hump. This was a fairly light deduction and movement-timing game with most of us thinking it was ok, Mark K preferring it a little bit more than most and Nige a little bit less. Nicely produced as you would expect from Queen but perhaps a bit long as a 5-player game. Not sure how it would play with fewer players but it would certainly be shorter due to fewer rounds being played.