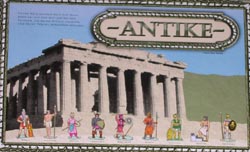 Antike
This week, we had another go at Antike. Last time, we were pretty impressed with the game and the same was true on this occasion. This time, we played on the German side of the board. Mark G pursued the same line as he did previously by building a formidable army but again didn't take real advantage by attacking some close temples. Mark K and I had a couple of skirmishes over Brittany but the game remained pretty peaceful most of the time. Phil started in North Africa and eventually got his fleet of ships going. John, however, was the man with the plan. He tried to keep himself to himself, built temples on his gold cities and played the advancement table for all it was worth. Once he got to 6 Ancient Personalities, the rest of us wised-up and did our best to thwart any further progress. Nige and Mark K between them stopped him from building a sixth temple, but eventually John was able to sack a temple and gain his final trophy for his first win of the year.
Antike remains a very impressive design. There is still plenty to explore and everyone can approach it in different ways and still feel they have a chance of winning. I'm not sure there is a killer strategy. Excellent stuff.
Igel Argern
With a bit of time left, I suggested we have a go at Igel Argern. As some had not played before, we opted for the basic game with none of the variant rules added. I've not reported on this one before so here's an outline of play.
The game is about racing hedgehogs down a six lane track. Each player controls 4 hedgehogs and the first to get 3 across the finish line wins. Movement is determined by a standard die roll, the number dictating in which lane a hedgehog moves forward. However, before moving a hedgehog, the player can move one of his own hedgehogs sideways by one lane. Also, if more than one hedgehog is in the same space, they are stacked and hedgehogs lower in the stack are trapped until the higher ones are moved. Normally, you want to move your own pieces forward but sometimes you are forced to move an opponent or might choose to do so because of the tar-pits dotted around the course. A hedgehog landing in a pit is basically stuck until all the hedgehogs behind it have caught up. That's all there is to it.
There's not a lot of deep thought needed for this game. Many of the choices are obvious but I find it to be good fun if played in the right spirit. Phil, however, disliked it a lot. Sometimes you have no choices through no fault of your own and Mark K for instance seemed drawn to the tar-pits. The finish was fairly close although Mark G manoeuvred his way into a very strong position and took the win. OK for the occasional play (perhaps when Phil's not around) but it's not going to be a regular filler.