2012 saw me play 239 games of 154 different titles (interestingly, just two fewer than the 156 different titles played in 2011 and three fewer than the 157 played in both 2010 and 2009). I find it pretty remarkable how close these numbers are – is my brain only capable of absorbing around 150 rulesets over the course of a year? The total plays at 239 is up quite a bit compared with 200 in 2011, 208 in 2010 and 229 in 2009). My full list of games played is here.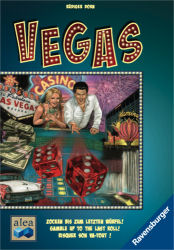 My most played game was Vegas which saw 7 plays. This is a very enjoyable dice game with lots of ooh and ahh moments and it plays very quickly so is ideal for an end of evening filler. Friday and Timeline: Inventions both racked up six plays each but last year's most played game, Lord of the Rings: The Card Game, didn't get a single play in 2012.
Only three other games reached 5 plays and, of the 154 titles, 111 of them were played just once. My unplayed game list started 2012 at 16, dropped all the way to 4 or 5 but is now sitting at 23.
2012 seemed to produce several good games but not a single stand out game. My six picks for the year were Africana, Lords of Waterdeep, Love Letter, Palaces of Carrara, Santiago de Cuba and Vegas. As with last year, I've also done a six picks of solo and two-player games featuring Agricola: All Creatures Big and Small, City Square Off, Equilibrion, Friday, Morels and Targi (with Le Havre: The Inland Port just a shade behind). All in all, a pretty good year. Let's hope 2013 is just as good.