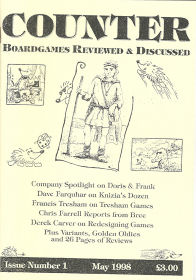 With my latest batch of games for sale on Ebay, I've also added a very special item:
For those who've read any issues of Counter, you'll know what a fantastic publication it is. However, I've decided to put my entire run from the first issue (May 1998) to the latest issue 52 (March 2011) up for sale. I'm not sure of the exact page count but, assuming at least 80 pages an issue, that gives over 4,000 pages of quality reading.
Does anyone remember what Alan How said about Katzenjammer Blues or what Mike Clifford thought of Ursuppe (both from the first issue), or even how much Just Games were asking for El Grande and its expansions by mail order? If not, you might want to bid on over 6kg weight of reading pleasure. The item is listed here to end on Thursday 12th May.
Advert complete!