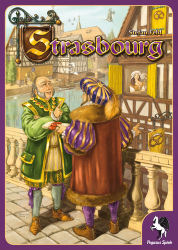 I played 18 different titles in April, of which 14 were new to me. The new games were: Antics, A La Carte, Lord of the Rings: Sauron, 51st State, Texas Roll 'Em, Junta: Viva el Presidente, Chronicle, Strasbourg, El Paso, Artus, aBRIDGEd, Mondo, Municipium and The Boss. Those played before were Holiday AG, Mijnlieff, London and Through the Ages.
And the best new game I played was Strasbourg, another excellent design by Stefan Feld that went down really well with the Shrewsbury Boardgames Club.
My unplayed list is now down to 10 although it will go up again this week due to a Gameslore order. On the way are Alien Frontiers, Biblios, Lemming Mafia, Mijnlieff and Pergamon.