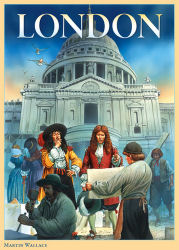 I had a good time at this year's Telford Mini-Con. The venue was excellent with plenty of space and just a few yards from Shifnal High Street. Although I wimped out after nearly 8 hours gaming, I enjoyed some good company with Mark K, John Roach and another guy who I'm embarrassed to have already forgotten the name of. Sorry! That said, I was also struggling to remember one of the games we played.. maybe dementia is setting in.
So, what did we play? We started off with a game of 51st State, an engine building game that I'd passed on at Essen last year. I quite enjoyed it although it did go on a little too long for my taste (2 player may turn out better). We all expected John, who was the only one of us to have played before, to romp this and he seemed to surge out to a hefty lead. However, Mark K had a couple of very good turns at the end and caught him to win on the tie-break.
We then tried Texas Roll 'Em, a Liar's Dice variant that Mark K has been bringing to the Shrewsbury club for a few weeks to try, unsuccessfully. I think we all liked the way it played but there was a big issue in that, if one of the last two players managed to win a sizeable pot, it didn't matter if they then played to lose their remaining dice as the winner is the one with the most chips rather than the last dice. My Liverpudlian / Wirral Tottenham Fan won this one after scooping a nice pot just towards the end.
Mark K and I then went and grabbed something to eat while the other two played Jambo. To fill in time, I then taught Mark Mijnlieff, a really clever Noughts-and-Crosses type game, where the piece you play dictates where your opponent can play their next piece. Over in 5 -10 minutes, I scraped a win here.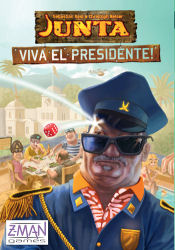 Next, the four of us tried London, a Martin Wallace design that I've tried once two-player and really enjoyed. Mark K hadn't played before but the other two were obviously veterans. This ended up extremely close and I'd expected to lose out as I'd kept my city very tight (just five cards) whereas the vets were both up to about nine cards in theirs. However, even though I was unable to repay one loan, I'd got enough VP's through running my city which, when added to my boroughs and card VPs, gave me a single point victory.
My final game, and my one purchase of the day, was Junta: Viva El Presidente, a dice version of the backstabbing original boardgame. Verdict, it's not as good as the original but it is a lot shorter and, now knowing what the spread of action cards is, it could be an interesting 45 minute filler. I was never in this, having lost my first turn battle against the President (because the git only offered me a paltry 1 million pesos bribe) and then having been attacked on my next turn. After one change of President, Mark K remained in charge for the rest of the game but the other two both amassed the game-ending 5 VPs on the same turn and John had the most money left to break the tie.
And that was when I decided to leave. The others went on to a three player game of At The Gates of Loyang. None of us won anything on the raffle but it was still a great day. Many thanks to Paul and Co. at Gameslore for organising the day – it was a big success from my point of view and the venue was great. Let's make sure there's another one in 2012.