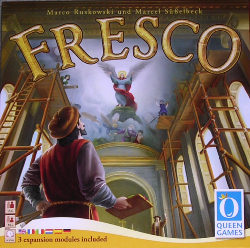 I've just added the 999th and 1,000th game to the Trickylight games database. Following a trip to Gameslore, I picked up the two new Queen games – Samarkand:Routes to Riches and Fresco.
I'm hoping to try both in the next week.
Although the database contains 1,000 games, I still don't own 1,000 and I'm not sure I would want to. If my BGG profile is up-to-date (and it should be pretty close), I actually have 813 – the remaining 187 are, therefore, games I've previously owned and games I don't own that have been played at the Shrewsbury Boardgames Club.