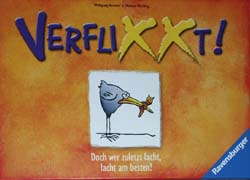 I don't normally go in for choosing a top 10 of the year but, after browsing a few of these over recent days, I was intrigued to see if my choices were close to what others thought. The following are the list of games I have gained the most enjoyment from in 2005. They are not meant to reflect the most deserving releases of 2005 (and indeed one is a 2004 release that I only first got to play in 2005), but they are the ones that made the best impression on me. So here, in alphabetical order, as I would struggle to place these in order of preference, are my picks of 2005:
Australia
Beowulf – The Legend
Caylus (despite our 5 player game running too long)
Havoc: The Hundred Years War
Hazienda
Kreta
Louis XIV
Shadows Over Camelot
Tower of Babel
Verflixxt!
I'm sure the rest of the Shrewsbury Games Club will concur with my choices. If not, they can always tell me where I went wrong in the comments section.
Let's hope 2006 brings more excellent releases along the lines of these 10.